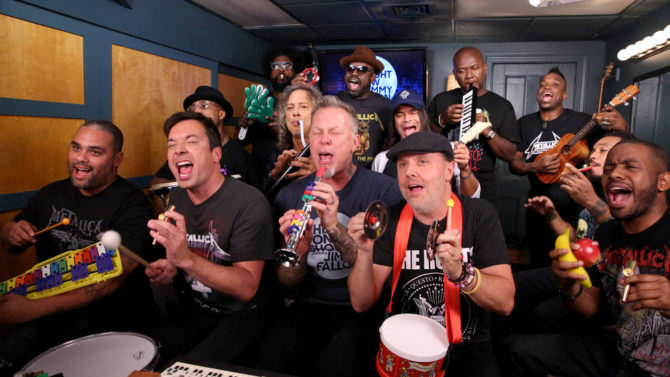 What happens when you give rockers Metallica a bunch of children's toys on The Tonight Show with Jimmy Fallon? You get an impromptu performance of one of their biggest hits "Enter Sandman" on television alongside Fallon and The Roots! In the video, which aired on Wednesday night, shows James Hetfield playing a toy clarinet and Lars Ulrich banging away on a Fisher Price drum.
The band is currently making the media rounds in support of their latest album Hardwired…To Self-Destruct, set to be released on Friday. If you can't wait, the band who notoriously fought streaming services in the past, have uploaded thirteen official music videos to YouTube a day early.
SEE ALSO Rodrigo Continues to Attract Drama in Season 3 Trailer of 'Mozart in the Jungle'
They've also made up with Napster and are putting their entire new album available to stream starting Friday! Oh, how the times have changed. The heavy metal rockers famously took them to court in 1999 when Napster was a free P2P service that encouraged pirating of music. Today the streaming service competes with Spotify and Pandora.
Watch Metallica cram into a small rehearsal room on The Tonight Show for their special (and adorable) performance below: