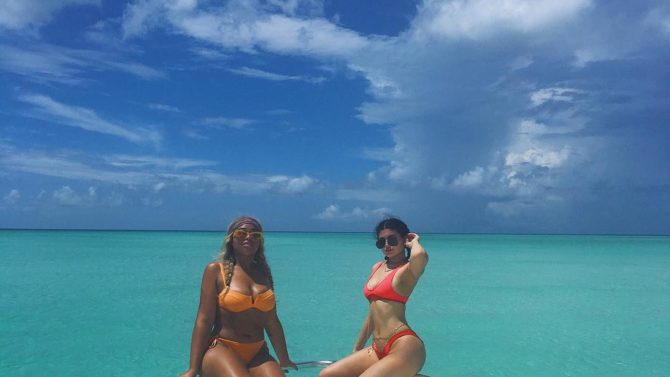 Kylie Jenner eligió un panorama muy exótico para celebrar sus 19 años, y es que la estrella de Keeping Up with the Kardashians está celebrando la ocasión en las Islas Turcas y Caicos junto a su hermana Kendall, su novio Tyga y varias de sus amigas más cercanas, entre ellas la modelo Jordyn Woods.
El cantante de "Rack City" puede estar en medio de un problema legal, pero esto no le iba a impedir celebrar el gran día junto a su novia.
Este 10 de agosto, la menor del clan Kardashian-Jenner tomó su cuenta de Instagram para mostrarle al mundo su traje de baño: una hermosa pieza roja que deja en evidencia su despampanante figura.
En caso de que quedaran dudas sobre lo bien que se ve, Kylie publicó una selfie, esta vez luciendo un bikini, que deja muy poco a la imaginación.
¿Quién no quisiera estar posando sobre esta blanca arena?
Además de festejar por todo lo alto en este exótico paisaje, Jenner podrá disfrutar de su nuevo auto cuando regrese a su hogar, y es que Tyga sorprendió a su novia con un Mercedes-Benz edición Maybach que dejaría a muchos verdes de la envidia.