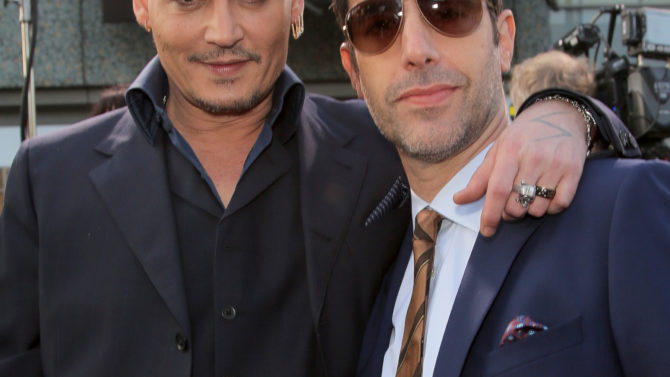 Sacha Baron Cohen aseguró que Johnny Depp actuó en la nueva película, Alice Through the Looking Glass, únicamente para encubrir una gran red de contrabando de perros dirigida por el actor. Así lo indicó durante una entrevista para un programa australiano, en la que no pudo resistirse a bromear sobre el ingreso ilegal de las mascotas de Depp y su esposa, la actriz Amber Heard, a ese país.
VER TAMBIÉN Johnny Depp sorprende a Pink en 'Jimmy Kimmel Live!' [VIDEO]
"¿La gente verá la película, considerando que Johnny Depp es un contrabandista de perros?", le preguntó el actor británico al periodista australiano que le estaba haciendo la entrevista, a quien le explicó su divertida teoría sobre el caso.
"La película fue una coartada para una gran operación de contrabando de perros que Johnny estaba haciendo, usando su avión privado para transportar, literalmente abarrotando ahí, como sardinas, a estos perros y transportándolos alrededor del mundo", indicó muy seriamente Cohen, quien interpreta al villano Time en la secuela de Alice in Wonderland.
En abril, Heard se declaró culpable de mentir en su formulario de ingreso a Australia por no reportar el ingreso de sus perros, Pistol y Boo. Por ello, la actriz y su esposo tuvieron que disculparse públicamente a través de un video en el que señalaban la importancia de declarar el ingreso de plantas y animales a ese país.
VER TAMBIÉN Anne Hathaway, de 'Alice Through the Looking Glass', dice que la única diferencia entre hombres y mujeres es la capacidad de dar a luz [VIDEO]
Luego de la controvertida disculpa, Depp se pronunció frente al hecho, indicando en tono burla que empezará a disculparse por no ingresar a sus perros de forma ilegal. "Creo que haré esto donde sea que vaya", aseguró.