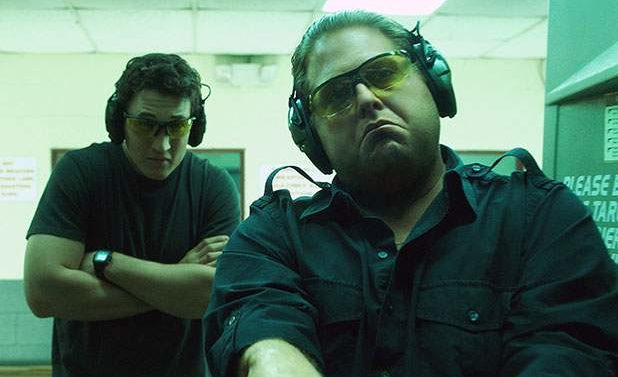 Jonah Hill's new comedy War Dogs is causing a bit of a stir in the court system.
The movie is based on the true story of a pair of potheads, Efraim Diveroli and David Packouz, who become unlikely arms dealers when they win a $300 million contract from the government to supply America's allies in Afghanistan with weapons.
The screenplay, written by Todd Phillips–who will also direct the film, is largely based on a 2011 Rolling Stone article and book by Guy Lawson. Now one of the subjects upon which War Dogs is based is suing Warner Bros., along with Phillips and producer Bradley Cooper.
In court documents, Diveroli claims that after the Rolling Stone article was published, Lawson agreed to co-author a book with him, all while Diveroli was still serving time in a federal prison.
Diveroli agreed to the book, so long as the content was kept confidential and included Diveroli in any discussions about selling the film rights, to which Lawson agreed, according to Diveroli.
However, when the book was published four years later, Lawson was listed as the sole author on "Arms and the Dudes". Diveroli then formed his own company, Incarcerated Entertainment, and wrote a 360-plus page manuscript entitled "Once a Gunrunner…" as a means to sell the movie rights to his life story.
The suit claims that Diveroli's business partner, Ross Reback, reached out to Warner Bros. and offered to furnish them with a copy of the manuscript in order to discuss selling Diveroli's life rights for the movie. At that time, Phillips was already working on a script based on the Rolling Stone article.
According to the suit, Diveroli and Reback were then contacted by producer Elliot Kahn and his business partner Simon Spira. Kahn and Spira were provided a copy of the manuscript, but Spira turned out to be the son of Warner Bros. executive Steven Spira.
The suit alleges that during the time Phillips was doing rewrites on the War Dogs script, he had unauthorized access to Diveroli's manuscript. The documents claim Simon Spira could have provided the manuscript to his father to give to Phillips.
Diveroli is seeking damages and a jury trial for fraud and breach of a nondisclosure agreement in addition to a number of violations of other Florida laws.
War Dogs is scheduled to hit theaters Aug. 19.