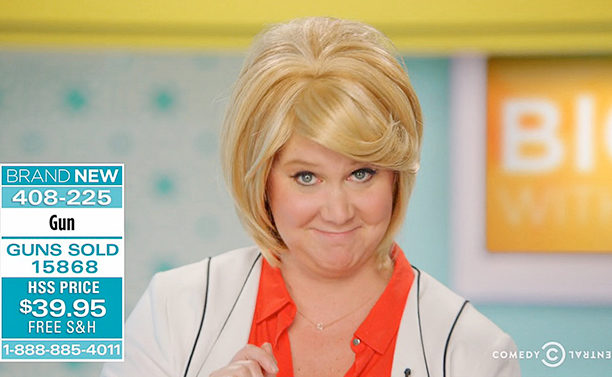 Amy Schumer takes on U.S. gun laws in a new episode airing Thursday.  In a sneak peek obtained by Entertainment Weekly, the actress is seen as a host on a home shopping network where she sells guns to some questionable callers.
Check out the "Gun Show" sketch below, which also offers a phone number (888-885-4011) to learn more about gun laws, gun control and how to get involved.
"This was a sketch that Amy personally felt really strongly about," Dan Powell, executive producer for Inside Amy Schumer told Entertainment Weekly in a recent interview. "The whole writers room piped in with jokes and ideas and things like that but ultimately, this was Amy's baby."
The new season will continue to explore topics revolving around sex and relationships and combines scripted sketches, stand-up comedy and woman-on-the-street interviews. The show is executive produced by Schumer, Dan Powell and Jessi Klein.
Schumer is currently working on an untitled mother-daughter comedy project starring Goldie Hawn. She's also co-writing a feature film with actress Jennifer Lawrence.
The actress most recently shot a role opposite Miles Teller in the PTSD drama Thank You For Your Service. The film was directed by Jason Hall and also stars Haley Bennett. No release date has been announced.