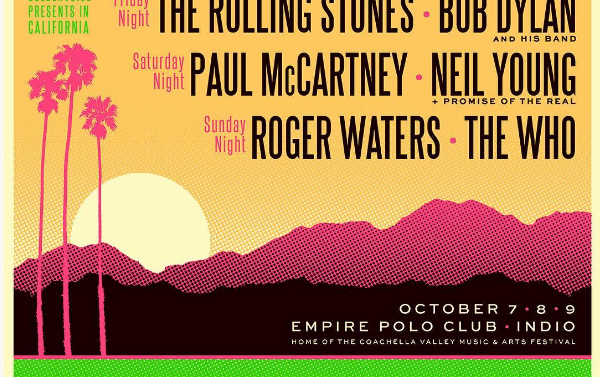 "Desert Trip" es un evento que pasa una vez en la vida, y donde por primera vez compartirán escenario, aunque en días diferentes, legendarios grupos musicales como The Rolling Stones, Paul McCartney y The Who, entre otros.
El festival musical se llevará a cabo en Indio, California, los días 7, 8 y 9 de octubre. Allí, seis de las más icónicas e influyentes bandas de rock se reunirán para hacer más de un sueño realidad. Este martes, la productora Goldenvoice, la misma detrás de Coachella, publicó el anuncio en su página de Instagram con este emocionante video. 
La primera noche del evento, el viernes 7, tendrá a The Rolling Stones y a Bob Dylan junto a su banda; la noche del sábado 8, contará con las actuaciones de Paul McCartney y Neil Young + Promise of the Real; el domingo 9, Roger Waters de Pink Floyd y The Who cerrarán el festival con broche de oro.
Las actuaciones de estos músicos comenzarán después del atardecer y cada uno tendrá la oportunidad de tocar un set completo de música. El evento se llevará a cabo en mismo lugar donde se celebró el festival de Coachella el pasado mes de abril.
Las entradas para este evento irrepetible estarán a la venta a partir del 9 de mayo en DesertTrip.com