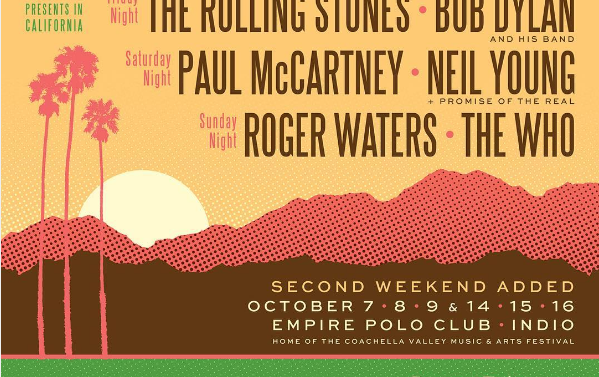 Desert Trip, el festival musical que se anuncia como un celebración única en la historia, y que reunirá a legendarios del rock como The Rolling Stones y Paul McCartney, acaba de añadir un segundo fin de semana para disfrutar de este banquete musical.
Debido a una "abrumadora acogida" que ha tenido el anuncio del festival organizado por Goldenvoice, la misma productora del festival de Coachella ahora tendrás una segunda oportunidad de ver a tus artistas favoritos del 14 al 16 de octubre próximos.
El anuncio se hizo con este video publicado en la cuenta de Twitter del evento:
Si pensabas que te ibas a quedar sin ver a artistas como Bob Dylan, Paul McCartney, The Rolling Stones, Neil Young, Roger Waters, y The Who del 7 al 9 de octubre próximos, ahora tienes otra oportunidad para hacer tu sueño realidad.
El mega concierto se llevará a cabo en el Empire Polo Field en Indio, California.
VER TAMBIÉN Steven Tyler anuncia 'Out on a Limb', su gira en solitario
Para este segundo fin de semana del festival, el reparto y los itinerarios se mantienen igual. El día 14 de octubre se presentarán The Rolling Stones y Bob Dylan; el día 15 llegarán al escenario Paul McCartney y Neil Young.
El broche de oro a este evento histórico lo pondrán Roger Waters y The Who el segundo fin de semana, el día 16 de octubre.