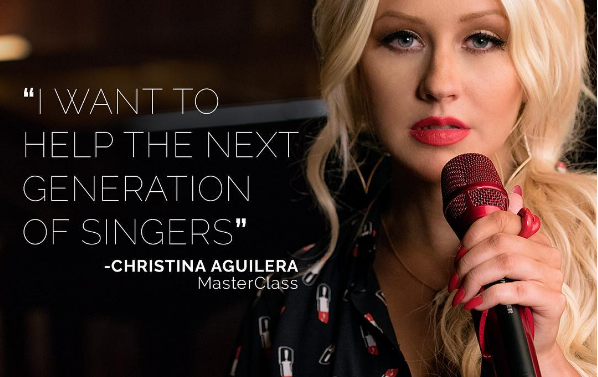 Si tu sueño es ser cantante y no has logrado llegar a The Voice, ya tienes la posibilidad de que la seis veces ganadora de un premio Grammy, Christina Aguilera, se convierta en tu coach vocal.
Luego de que en febrero la cantante de 35 años anunciara que ofrecería un programa de canto en la web, hoy martes 3 de mayo se hizo oficial que Aguilera estará disponible en MasterClass, una compañía de estudios online con los mejores en su profesión.
VER TAMBIÉN La cantante Stevie Nicks hace aparición sorpresa en el musical de Broadway 'School of Rock' [VIDEO]
En el video promocional se ve a la cantante enseñándoles a estudiantes a controlar su respiración, vibrato, gruñidos y la manera de expandir su registro.
"Esta clase es para los artistas que están intentando encontrar su voz. Estoy orgullosa de, a través de MasterClass, poder compartir mi amor por la música y todas las técnicas vocales que he aprendido a lo largo de los años", dijo la cantautora en un comunicado.
Aguilera se une otras celebridades que han compartido su experiencia en MasterClass como Kevin Spacey y Dustin Hoffman (actuación), Usher (interpretación), Serena Williams (tenis) y James Patterson (escritura), que han dictado cátedra de su oficio. Próximamente la laureada Annie Leibovitz ofrecerá su clase magistral en fotografía.
VER TAMBIÉN Gwen Stefani siempre fantaseó con colaborar con un cantante de country como Blake Shelton
Las clases están disponibles en la página web de MasterClass y tienen un costo de 90 dólares.