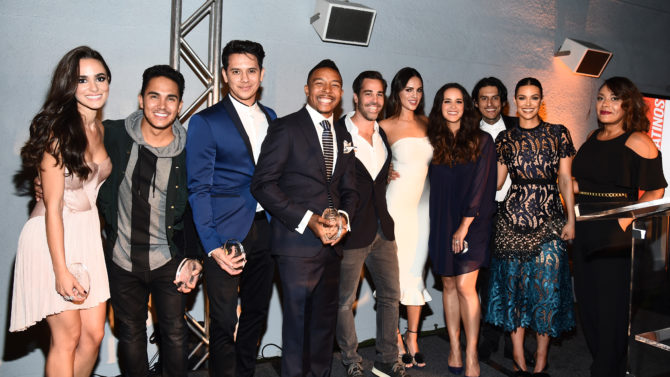 La segunda edición de '10 Latinos to Watch', un evento en el que Variety Latino premia a los actores latinos emergentes que se destacan en la industria del cine, la televisión y las distintas plataformas digitales en los Estados Unidos, se llevó a cabo este 28 de septiembre en el hotel The London West Hollywood, en Beverly Hills.
VER TAMBIÉN '10 Latinos to Watch': Así se vivió nuestra fiesta en redes sociales [FOTOS]
A la celebración en la que fueron reconocidos los actores Alfonso Herrera, Eiza González, Carlos PenaVega, Melissa Fumero, Eric Ochoa, Allen Maldonado, Anabelle Acosta, Alicia Sanz, Richard Cabral y el productor ejecutivo de Jane the Virgin, Jorge Granier, asistieron también varios de los artistas que están representando por lo alto el talento latino en Hollywood en la actualidad, incluyendo a Justina Machado, (Queen of the South, One Day at a Time), Jena Ortega (Stuck in the Middle, Elena of Avalor), Elvis Nolasco (American Crime) y Lorenza Izzo (Feed the Beast), quien hizo parte de nuestros '10 Latinos To Watch' del 2015.
Otros famosos que también estuvieron en la fiesta incluyeron a la ex Miss Universo puertorriqueña Dayanara Torres, la famosa youtuber Bethany Mota y la actriz Alexa PenaVega, quien acudió para celebrar el reconocimiento otorgado a su esposo Carlos.
El actor Jaime Camil fue el encargado durante el evento de entregarle el Legacy Award a la legendaria Rita Moreno, la única latina que se ha ganado los cuatro premios más importantes de la industria del entretenimiento en Estados Unidos: el Emmy, el Grammy, el Oscar y el premio Tony, honor que solo 12 personas han alcanzado en la historia.
VER TAMBIÉN Alfombra roja de la fiesta '10 Latinos to Watch' [FOTOS]
Por su parte la artista puertorriqueña pronunció un discurso de aceptación en el que celebró el hecho de que finalmente los latinos están teniendo una presencia en Hollywood. "Este reconocimiento es muy especial. Cuando yo era pequeña no existía Variety Latino o latino nada. Cuando yo era prequeña nadie le prestaba atención a los latinos… Es muy conmovedor poder ver hasta dónde hemos llegado", aseguró.
Fue una noche en la que los latinos dijeron presente para celebrar los avances que han logrado en la industria del entretenimiento en los Estados Unidos, posible gracias al apoyo de City of Hope y Fusion.